Volunteering at Junior Achievement's Finance Park
Bonnie Reid, Chief Compliance Officer and Lyndsay Arruda, BSA Officer/VP
At GBC, team members are encouraged to support our community through volunteerism. Of all the places that we have volunteered, we have some favorites, and we wanted to share some of those with you. Today, we are highlighting Junior Achievement. JA's purpose is to inspire and prepare young people to succeed in a global economy. They have been in existence since 1919 and in Atlanta since 1949. They offer many programs to students that help them better understand personal finance, one of those is JA Finance Park which is a budgeting simulator. Seventh and eighth graders come from schools around Georgia to an immersive JA Discovery Center facility built specifically for this experience. There are currently five JA Discovery Centers across the state. Each student is given a tablet containing a randomized life scenario including household members, their level of education, profession, and salary. They must allocate their salary amongst several budget items and apply for a car and home loan. They also experience mini-modules as they travel around to different businesses. These mini modules include exploring careers, evaluating how one's credit score is affected based on certain behaviors, pricing groceries, the importance of insurance, philanthropy, and more.

What is a volunteer's role?

Volunteers guide 4-8 students through the budgeting process as well as a unique mini-module in each of the businesses categories represented. They answer student questions and are available to assist their students with the simulation. Volunteers add personal experience and expertise to the day for the students. They also show the students that adults outside of their personal circles care enough to participate in their education. At the end of the experience, volunteers are both exhausted and energized from spending time with these students.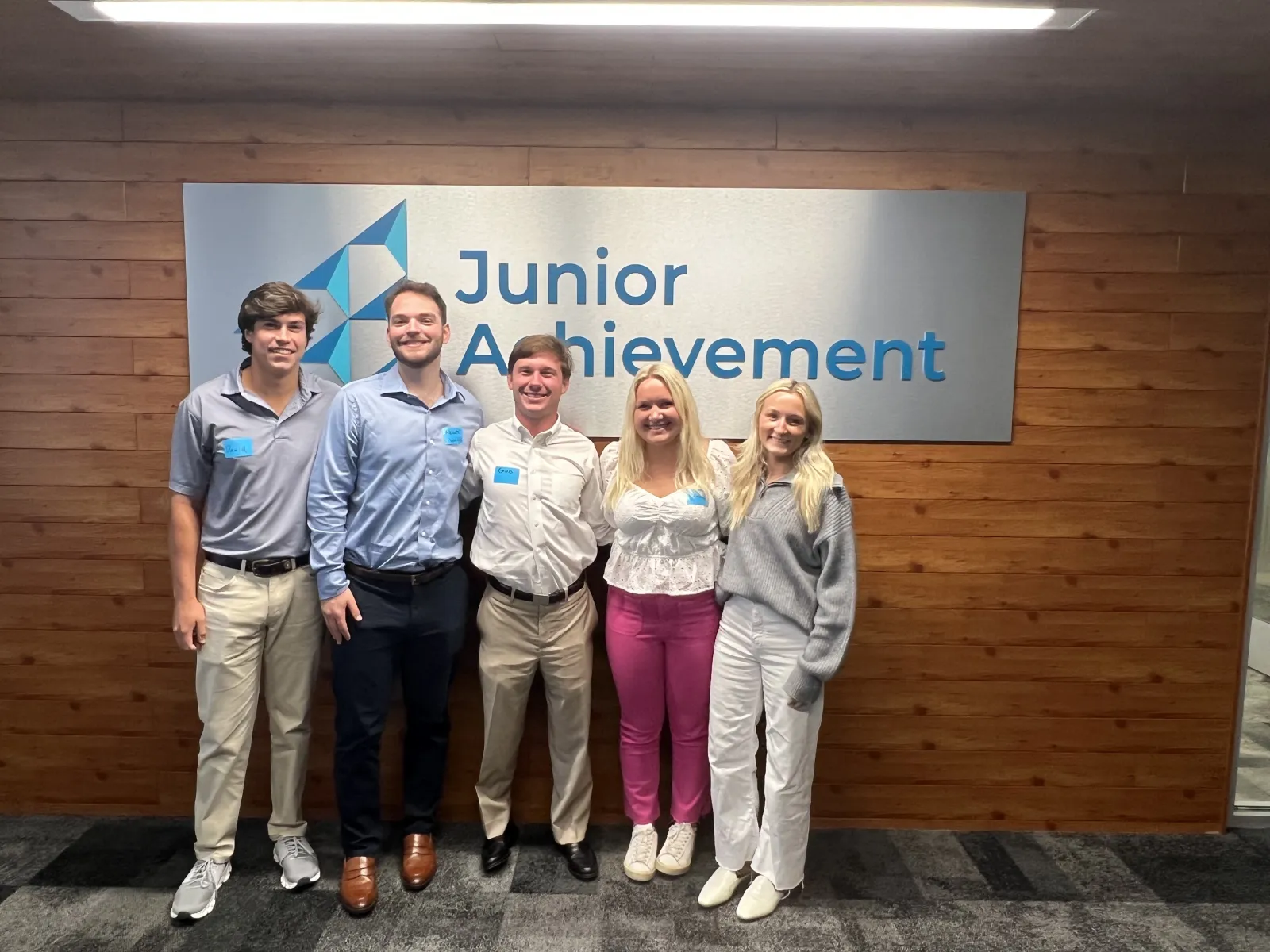 How will I know what to do and what should I expect?

Volunteers will be onsite from 8:00 am until around 2:45 pm. All volunteers receive training prior to the students' arrival. You are told what to expect, shown how to use the volunteer tablet, told what your role is, and how to ask for help during the simulation. The Staff at JA are great to work with and create exceptional memories for both the students and the volunteers (no matter how many times your volunteer tablet stops working due to user error 😉). You will also receive a Chick-fil-a sandwich, chips, and water for lunch.

What are some 'Ah ha' or funny moments experienced with the students?

Even when you earn a good salary, you still need to budget.
Not everyone makes the same amount of money. Education is important to earn a higher income.
Sifting out one's wants from one's needs will help in the budgeting process.
The larger the household, the higher expenses will be.
Students tell you that they are going to go home and tell their parents that they are sorry for asking for so much.
Students say, "I'm never having kids!" Students say, "I can't afford two cars. My spouse can take the bus!"
What are some favorite aspects of the day from former volunteers?
Seeing the students' reactions to their life scenarios and having aha moments throughout the day.
Watching students work through the simulation and realize how much is involved just to make a household's money last through the end of the month.
The objective for the students is important, but what you take away is just as important. You feel rewarded that you helped young people experience a glimpse into the real world.
Receiving thank you cards from the students. There are so many who are genuinely grateful for you sharing their experience and helping them for the day.

How can one volunteer at JA Finance Park?

Anyone 18 years or older can volunteer for a day. You can volunteer as a group or individually. First, we recommend you watch Ms. Mia explain what the day entails on this YouTube video. Then simply go to www.georgia.ja.org, and select 'Volunteer' from the top menu. JA Finance Park is a middle school program. Complete the volunteer form and choose your date. You will receive an email with directions and free parking instructions.
JA Finance Park is a high-quality, immersive financial simulator experience for seventh and eighth-grade students. JA has found a way to involve community volunteers to help bring the student experience to the next level showing them that their community is investing time and energy into their financial success. Teaching students about managing their money at such an early age helps them realize that it takes thoughtfulness, dedication, and sacrifice to ensure they have a secure financial future. Volunteers can literally see the moment when students realize that managing money is hard. It also humbly reminds us that we could be better stewards of all that we have been given. It is always a rewarding day spent at JA!!
About GBC

Georgia Banking Company (GBC) is a full-service, commercial community bank headquartered in Atlanta, Georgia. GBC's team of veteran bankers know their communities and are focused on leveraging technology to deliver an exceptional service experience to meet the needs of growing businesses and private banking clients. The bank also offers a unique suite of mortgage products to independent mortgage bankers across the nation. Visit GeorgiaBanking.com to learn more.
Published July 20, 2023